"Onsen" Spa Mark - Dark Blue (33"W x 47"H(Deep))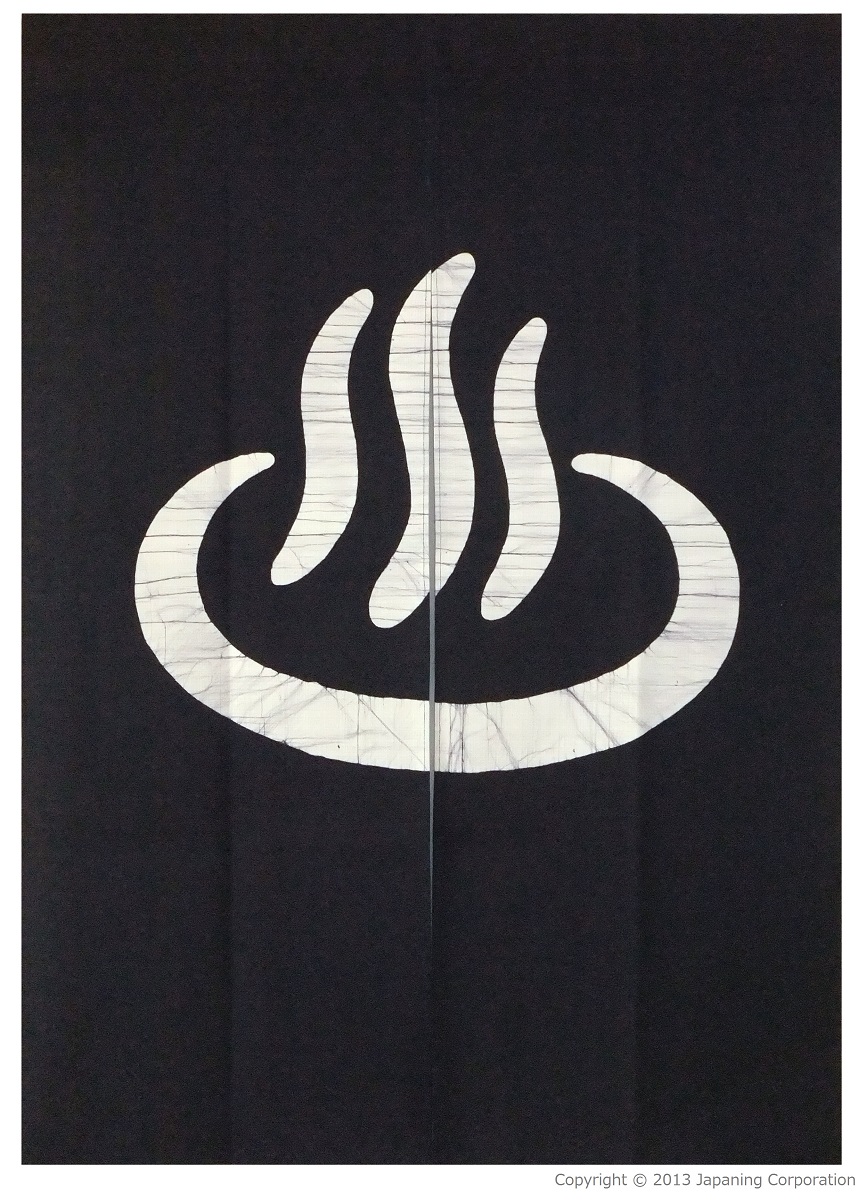 This noren is Roketsu-zome (batik) dyed and the design is double-sided (double printed or dyed-through). You can enjoy the natural taste of small cracks created during dyeing process on the design surface (please confirm by enlarging the photos or see the Roketsu-zome sample photos(2.9MB PDF)). The design (mirror image) also appears on the backside. Handmade by Kanbayashi-san family running the noren studio since 1963. Read more about this studio.

Please read our suggestion and awareness in the pamphlet here (2.8MB PDF) and our blog here for enjoying noren at western and asian homes.

* For your reference, we have a photo book of Kyoto Street Noren (6.3MB PDF).

Noren Shopping Guidance

Please once again reconfirm this noren dimensions as decribed below before shopping to fit your application.
Please prepare a noren pole (curtain rod) on your side. As an option, we have separately selling one type curtain rod HERE.
You may see-through this cotton noren by luminous intensity. For your reference, please see the circle and bamboo design noren in this pamphlet .
The colors in these photographs might look brighter through a computer LCD screen.
Price

9,350

YEN

Item

"Onsen" Spa Mark - Dark Blue (33"W x 47"H(Deep))

SKU

Noren-SB-OnsenNoren-Kon

Number of Stock: 1 in stock
Product description
Product
Japanese curtain noren
Dimensions
84cm(W)X120cm(L)(33"W X 47"L)
Weight
400g (0.88lbs)
Content
100% Cotton
Origin
Kyoto, Japan
Brand
Kyoto Roketsu-zome
Care
Dry cleaning only
Notice

Please avoid direct sunshine.
A rod pocket of 1" diameter equipped on the top
About Roketsu-zome
Roketsu-zome is Japanese batik.
There are irregular small cracks on the paint. These cracks are created during Roketsu-zome process of wax protection.
About the artisans
Kanbayashi family specializes in Roketsu-zome and they have gained lots of popularity in Japan.
The founder, Katsumi Kanbayashi, was born in 1940 and he started his own Noren art studio in 1963 in Kyoto, after learning various dyeing techniques.
He holds a patent of coffee-dyeing technique.
***FOR YOUR INFORMATION***
Please note: In most cases, a ready-made noren is not resizable for your special dimensions unless otherwise stated, because the initial setting (the design, stencil, etc) is already prepared for the ready-made dimensions.

For general information on noren, please read our brochure here.

Should you have any question about this noren, please contact us from the form here.

For a Japanese or asian restaurant, Sushi-bar, etc, if you wish to print your company's logo on a noren, please send us your inquiry from the custom-noren order sheet here.