Making Custom Noren Curtain Professional Service For Shop Interior Designers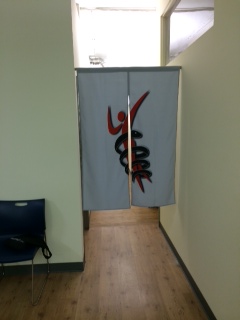 Welcome to NipponCraft custom noren order website!
We will make customized noren curtains for Sushi, Ramen, Izakaya restaurants and for office with our experienced artisans. A shop noren is a "face" or eye-catcher for the business.

Our skilled artisans will print your logo/design on a noren with our traditional printing method "Hon-zome (本染)" if the logo complexity is within our craftsmanship. We can handcraft any size noren - very long noren and extra-wide noren are okay. We will propose a suitable fabric such as "Tenjiku (天竺)" cotton, "Toromat (トロマット)" thick polyester and Japanese-style hemp according to your design and budget. We can also make the noren fire-retardant for a kitchen.

The production time is approximately 10 working days in Japan.

For estimation, please "support@nipponcraft.com" with your logo image (JPEG/PDF), noren dimensions, and other wishes if any. We look forward to your contact. Thank you very much!

A custom noren price may be US$280 for our standard size (85cm X 150cm). We recommend noren size not very large because the cost for making a large noren gets very expensive. We recommend something like 100cm wide X 180cm high, 200cm wide X 40cm high.

Your design that is to be printed on the noren must exist for the estimate, because the printing cost largely depends on a design. If you don't have a noren design idea, we have many examples at Sushi noren examples and kitchen noren examples. We can incorporate them on your noren.

Also, noren photos in Kyoto just for your reference here in PDF.

The followings are the details of ordering and our technique.

We have the following printing methods and textile selections to make up a noren depending on design complexity-
#1: Traditional "Hon-zome" printing (double-sided) on cotton (for a simple design like family crest / calligraphy)
#2: Orthodox silkscreen on colored fabric (for a simpler design) color samples
#3: Dye-sublimation on polyester (for a detailed design)

Please check each textile and printing look in this picture (pdf).
DISCLAIMER: This picture is for your reference only. We cannot show 100% accurate looking, thickness, hardness and softness of the noren textile through pictures.

*Note 1: A noren will be either one-side printed or double-sided (a mirror image on the backside) depending upon your design and wish.
*Note 2: The logo, design and colors need to be presented from a customer.
*Note 3: A rod pocket for hanging the noren will be sewed on the top. We have two styles for a rod pocket - one is a an enclosed slot type and the other is a loop type . We will recommend you the type, but you can still select the type by your preference.
*Note 4: Please prepare a noren rod (curtain pole) on your side. A noren pole does NOT come with a noren. We wish you will find a suitable one at a home depot in your country.
*Note 5: Gold foil printing is very difficult. It is very hard for noren artisans to print your logo in gold. Sorry for the inconvenience.

Order Steps
Step1:

Email us at "support@nipponcraft.com" for the estimate. Email us (i) Logo image in JPEG or PDF, (ii) Noren size (or doorway size), (iii) Number of noren panels, (ix) Color information by PANTONE or DIC # if you wish precise coloring, (x) Your wish of fabric selection if any, (xi)Single-sided or double-sided printing wish

Step2:

We will respond in a couple of days.

Step2:

When the estimate is okay, provide us higher resolution image for the noren production.

Step4:

We will send you a PayPal link for the payment.

Step5:

We will start production run as soon as we receive your payment.

Step6:

Usually in 2 weeks, we will ship out your noren.

Please agree with our proposal.
Order Condition
1) Customized noren requires prepayment.
2) Final logo and design on a noren needs be to presented from a customer.
3) No cancellation or no design change after the order is finalized.
4) Prepayment will NOT be refunded after the production run has started.
Custom Noren Price
Depends on your noren size and logo design, but not anything less than US$200.
Payment Way
Through PayPal link. VISA / MasterCard / AMEX acceptable.
Shipping and Other cost
We usually ship through Express Mail Service (EMS) by the postal. If you wish, we can also ship through expedited DHL with a special price. You may need to pay Customs and VAT of your country before you receive your package.
Production Time
Approximately 10 working days in Japan.
Restrictions
Since we hand-make your design, color and dimensions, there may be some inaccuracy on the final result. The printed design and color are dictated by craftsmen/artisans' workmanship. However, we will strive to be accurate at our best. The final color on the custom-noren may not be exactly the same as the Pantone or DIC color swatches.
Sunshine Caution
We recommend you to use a noren indoor or to use it under an eave when hanging outside . We strongly recommend you not to expose a noren to direct sunshine. Otherwise, the printed color will fade quickly.
(Last Updated : February 5th, 2020)
Ukiyo-e Design Custom-Noren (100% Polyester fabric // Single-sided print: Plain pure-white on backside)
The following entry system currently has a technical issue and doesn't work properly. Pleas send us your inquiry in a separate email. We are sorry for this inconvenience.
Please fill in the order sheet. We look forward to serving you.
" * " : Required field