Pine, Bamboo and Plum Trees (Lucky combination tradition) w/ Stand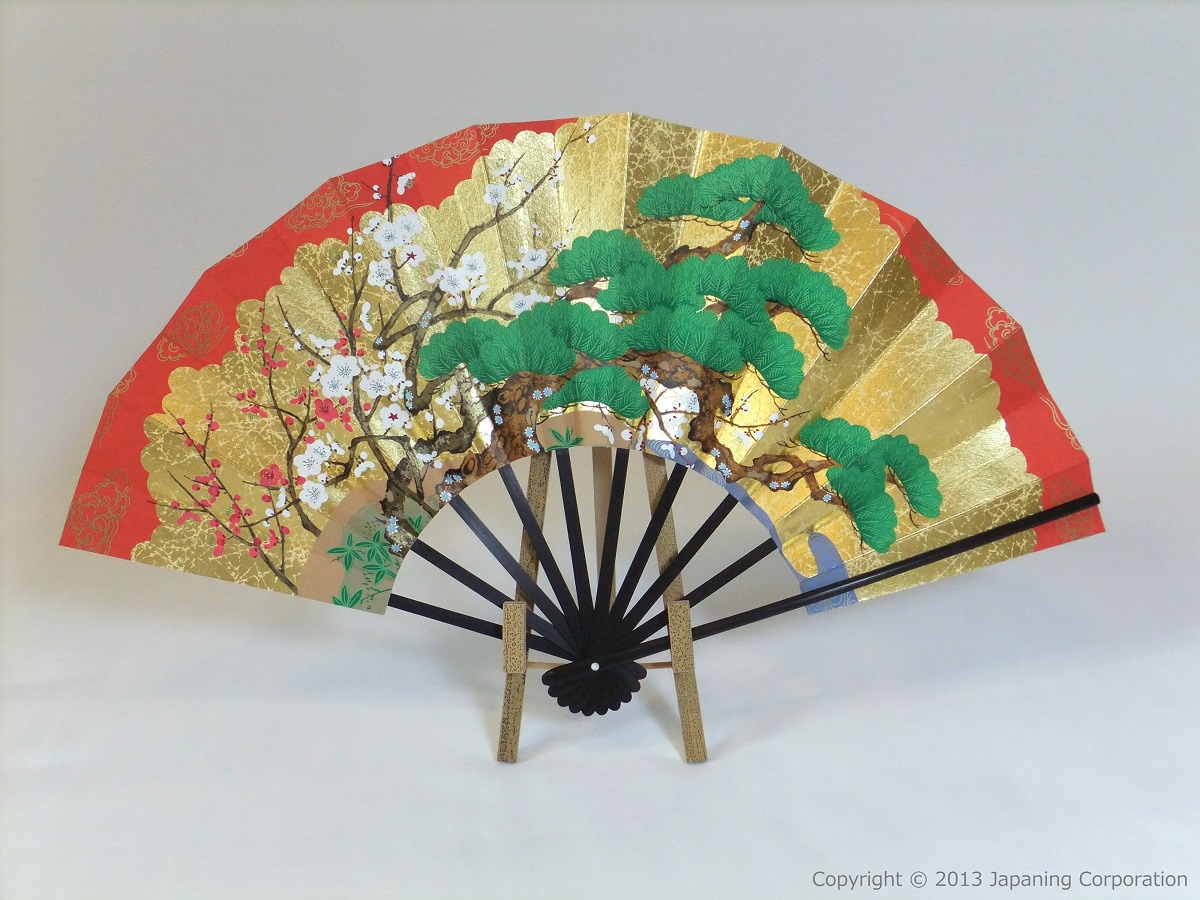 The mix of these three plants is the happy symbol in Japan, and often used at happy occasions such as weddings and elderly people's birthday parties. Because pine and bamboo leaves are always green all throughnthe year, they have become the symbol of long and strong life. Plum flowers, which blooms in winter (February), also reminds of strongness, and make up the happy symbol.
Dimension
27.3cm (10-23/32") Long
Content
Paper & Bamboo
Origin
Kyoto, Japan (Kyosendo)
Note

The fan display stand is included in the package.
Please handle gently.
Do not wet the fan.
Price

7,450

YEN

Item

Pine, Bamboo and Plum Trees (Lucky combination tradition) w/ Stand

SKU

Sens-KS-KZ-ShyouChikuBai-2152

Number of Stock: 1 in stock
A sensu is a sector shaped folding fan that can be closed when it is not in use. The fan opens up to approximately 130 - 135 degress in the center (the center of a sensu is called "Kaname", meaning an important section).

A study shows that sensu originated in Kyoto in the 9th century.
This sensu is made by an authentic sensu shop "Kyosedo" established in 1832 in Kyoto. We recommend Kyosendo sensu from its high quality and traditional taste. Moreover, some Kyosendo's sensu have an elegant smell of face powder.

Kyosendo categorizes their products into home decor sensu, men's sensu and ladies' sensu according to purpose. Men's sensu are slightly larger than ladies' ones. Home decor sensu have less bamboo frames.

A sensu price depends on the coating level of bamboo frames, the number of frames, the picture design and the fan material (paper or silk).